How To date Younger Women
Most guys in their 40s think it's impossible to date girls much younger than them. But you can, and you shouldn't apologize for wanting to have sex with a 20 year old girl versus a 40 year old.  There's a reason why the girls in magazines, models, strippers, etc, are all in their early 20s – because they're hotter.  I don't have to convince you they're hot, I just gotta tell you how to have sex with them.
TIP #1
LOCATION, LOCATION, LOCATION
The first thing you must do is live in right part of your town.  In all towns there's a suburban family area, young professionals area, college area, etc.  If you're in your 40s and you've previously been married, you probably live in a suburban family area, if you're a single wealthy professional, probably in one of those areas with people in their 30s – Manhattan Beach in Los Angeles, CA. comes to mind. 
Don't get me wrong, if you wanna meet a girl in her 30s ready to get married, this is a great place to live. But if you wanna live a bachelor lifestyle, and hook up with younger women….YOU MUST MOVE IMMEDIATELY!
To meet younger girls in their 20s, you don't need to move to a college town, but rather close.  You wanna live where the recent college grads live who are now working, and where the bars are.
I'm 40 and I surely don't go out to bars and clubs 4 nights a week where the 23 year olds hang out.  I'm not saying you can't, but most 40 year olds don't.  The exception is Vegas.  See my post Solo Trip To Vegas
However, you CAN live where the 23 year olds live.  If you live where they live, you will run into hot young girls during your daily life.  You will naturally meet girls at the grocery store, car wash, mall, gym, etc.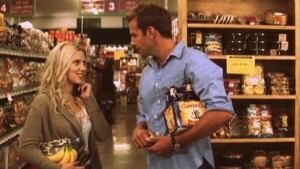 Although this post is about hooking up with younger girls, a not so obvious benefit of living where the recent grads are, is if there are some hot women in their 30s and 40s living in that area, they know they can't compete with the 20 year olds, so they are extremely easy to hook up with.  However, there's not many of these women because most women in the 30s and 40s live in "age appropriate" areas of town.
TIP #2
LOOK GOOD!
The second thing you must do is be good looking.  I know this is not as easy as it sounds.  But the fact is, if you look good at almost any age, you will still have 20 year olds who will have sex with you. 
Maybe not a fair example, but David Beckham is 39 years old.  Are there many 20 year old girls who wouldn't hook up with him? Doubt it.  Yes he's a celebrity, but all good looking old guys can get younger women.
As I wrote in my Don't Dress like Steve Jobs post, I suggest dressing cool, but for your age.  You will not get young girls looking like a try hard wearing crazy printed Ts like a teenager.  On the other hand, your not gonna get young girls wearing dress shoes with shorts like a 70 year old.  Dressing your age with a little bit of "edge" is fine.
The goal is to have random hot chicks check you out…
not having your friends' wives saying you look nice.
TIP #3
IN RED COLOGNE

Finally, if you don't have a favorite cologne…. on second thought, if you have a cologne that women don't complement you on at least once a week, throw it out.  Get this extremely rare cologne instead.  It's super cheap at $14 on Amazon.  I got this cologne about a year ago, and I'll never where anything else.  The proof is in the response from girls.
I discovered this rare cologne on a great website called Good Looking Loser
Although aimed at guys in their 20s, the Good Looking Loser website is probably the best website out there if you wanna learn how to pick up women and have sex with them.