Tip For Sports Betting Online or in Las Vegas
With the Super Bowl in about 10 days, this is a good time to tell you how to win sports betting online or in a Las Vegas sportsbook.  Sports betting is a multibillion dollar industry, and everybody will be placing some kind of bet on Super Bowl Sunday.
Sports betting online, in Vegas, or with a bookie is gambling, and you'll be at a disadvantage.  Whenever you gamble, you're at a disadvantage EXCEPT, BLACKJACK. Remember: if you count cards in blackjack you do have the advantage. (see Jan. 10, 2015 Article How to Win Playing Blackjack)
And while I'm thinking about it, if you take full odds in Craps, you're even with the house, ie. neither you, nor the casino has an advantage. (Sept. 15, 2014 Article The House always Ties)

but back to Sports
The way to win money sports betting is to bet the:
OVER/UNDER BET
Whether you're sports betting online, or in Las Vegas, the best sports bet is the over/under.  You've probably heard of it.
** It's simply betting on the total amount both teams will score **

If you bet the over, you're betting both teams score over that amount.  If you bet the under, you're betting both teams score less. That's it!

For example: say the over/under for Seattle v. New England is 48. This simply means if the final score is 28 – 21 you win (b/c the total is 49)
So who makes the number? Well the so called expert bookmakers pick the numbers based on many many factors.  These guys know everything there is to know about sports, but (except for some notable stories over the years) they can't control athletes.  So, their guess is as good as ours.  
Tip: In the NFL, the odds makers often make the total number in the 40s, eg 42, 45, 49.
So even if the chick you're having sex with is the biggest Seahawks or Patriots fan, please don't bet on the individual teams.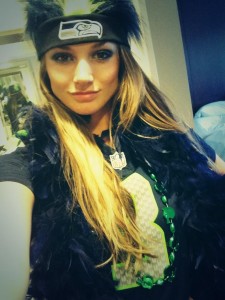 Why? because it's way too hard. It's so hard because of the spread. For example, if the spread is -7 Seattle, that means Seattle must win by more than 7 points for you to win.  You literally have two chances to lose.
 1. Seattle loses the game.

 2. Seattle wins, but they win by less than 7, for example Seattle wins 28 – 24.

But, if you simply bet the over, there's only 1 way you can lose – both teams total less than 48 points.
It's obvious, the best chance of winning a sports bet is betting the over/under.