Behind the Scenes With Porn Stars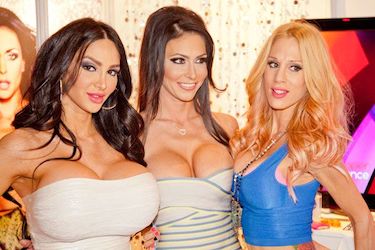 If you haven't heard, the new rage in porn is porn stars having sex with random guys and other "day in the life" content on their Snapchat.
Specifically, everyone is following porn stars on Fancentro.com (SnapChat)
Fancentro.com is an online platform that allows you to view NSFW Snapchat videos.
You can watch girls fingering each other in nightclubs. 
Watch them having sex on porn sets when the cameras are not rolling!
Also, porn stars upload incredibly sexy videos of them masturbating at home, in their car, and out in public.
Basically, you get to see the content that would get them banned on other social media platforms in about 5 seconds.
Porn Stars on Fancentro.com
Many porn stars at the 2019 AVN awards in Las Vegas have Fancentro/Premium Snapchat accounts.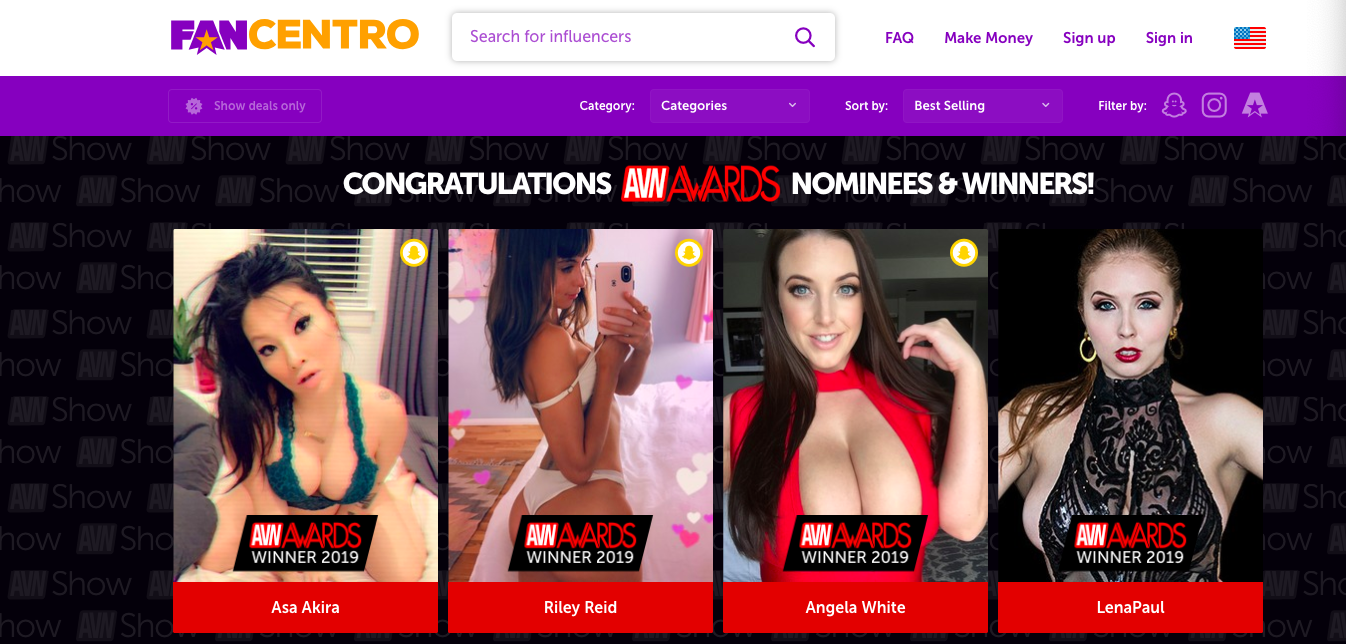 You can follow porn stars, amateurs, and celebrities on Fancentro.com.
Porn Star Escorts
For years, bachelorlifeinc.com has stated that you should read reviews even if you want to hire a well-known pornstar as an escort.
With porn stars, you don't have to worry about being arrested, or robbed.
But you do have to worry about what she currently looks like including age appearance, attitude, etc. – as explained in Porn Stars Need Review Too.  
Premium Snapchat is the best way to see what they are like.
For example, if you want to hire
…you should sign up for their premium Snapchat.
Sign up here: fancentro.com.
This will give you more information than their professional photos and their ads on eros.com. 
And, its better than Twitter, Instagram, and regular Snapchat.
Fancentro gives you access to 10x better content than normal Snapchat. Instead of watching boring activities such as girls walking their dog in Topanga Canyon, or smoking weed at home, or what their Spotify playlist is, you see what every guy wants to see – sex.
Premium Snapchat is Mainstream
Fancentro is great for the casual porn fan. In the past, you had to be a die-hard fan to go on a pornstar's website and become a paying member. And, most guys do not go on webcam sites. But all guys watch porn.
Now, just like you would follow your favorite pornstar on Twitter, Snapchat, or Instagram, a casual fan will follow premium Snapchat.
Soon fancentro.com and sites like it will be the only place to follow porn stars' social media account. Porn stars and models all fear getting banned on social media. You probably saw the Lana Rhodes video from a few months ago.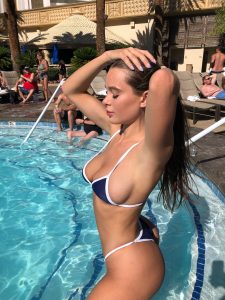 Lana Rhoades Snapchat Here: Lana Rhoades
Girls don't have to worry about their accounts getting deleted.
They can post whatever they want on their premium channels.  
Fancentro is Interactive
The greatest thing about Fancentro and premium Snapchat is that girls will communicate with you. 
This is much different than regular social media.
If you have ever DM'd or tweeted a famous pornstar, you probably never got a reply.
This is not the case with Fancentro.com.
Porn stars have a feed and a messaging service on their premium accounts. When you sign up for fancentro and message them, within reason, they will reply. You can communicate back and forth with your favorite porn star. 
They know they gotta keep their fans happy. 
Again, if you're looking for a trustworthy porn star escort, you can communicate with her.  If she has poor communication or is unfriendly, you may not want to hire her. This is just like non-pornstar escorts, if she takes more than a day to reply to an email, you should find someone else.
Fancentro Review
What makes Fancentro/Premium Snapchat unique is the exclusive content, quality, security, and discounts.
Exclusive Adult Content
The videos that porn stars put on Fancentro.com cannot be found anywhere else. Premium adult content has always been private. Fancentro is a more strict application of that principle since the girls are putting it out themselves.
Fancentro is the first easy to use platform for girls to upload exclusive content for their fans. 
The Patreon of Porn
Fancentro.com is kind of like Ebay, or more accurately Patreon. (for Youtubers).  
But fancentro.com is much bigger. Guys sign up for fancentro.com who would never consider signing up for Patreon. 
Fancentro Quality
The Fancentro app videos are great quality. They are high quality because porn stars are pros. They know lighting, angles, and good camera equipment. It is much better than choppy, grainy, webcam footage from ten years ago.
Also, the fancentro app is designed for mobile use and perfect for viewing on your phone. However, you can view the app on your laptop and widescreen monitors.
Premium Snapchat Security.
Fancentro is safe and secure. You can easily pay with Paypal or Venmo. You don't have to give your credit card or any personal information. Fancentro is popular and about as mainstream as adult content can get.
Fancentro is not some girl setting up a webcam in Moldova asking you to pay with Monero Cryptocurrency.
Also, Fancentro has an optional 2-step verification process for more secure login. Two-step verification simply means they send a code to your phone that you must enter to sign in.
Fancentro Discounts
Many of your favorite porn stars have discounts from time to time. For example, if you're into the very popular Romi Rain, you can save 25% off her monthly price.
Also, Chanel Santini has a sale for 50% off, and Richelle Ryan is offering 25% off.
Sign up here: Fancentro.com
This premium Snapchat is the newest thing in porn.