Benefit of Hiring a Sex Worker: Never Discussed Before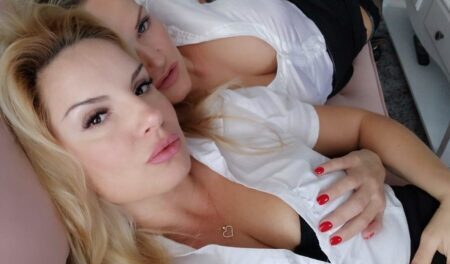 After eight years of this site, it's surprising the topic of hiring two sex workers at the same time has never been discussed.
Huge Benefit of Hiring a Sex Worker
One huge benefit of hiring an escort is spending time with two girls at once. 
Many guys dream about being with two girls at the same time. For most, it never happens. But an easy way to make it happen is to simply hire two escorts.
You will find many two-girl duos on theeroticreview.com or any other directory.
Just get in touch like you would normally.
By the way, as discussed in Advice When Hiring An Escort,  the other benefits of hiring a sex worker are:
Stop a long drought

Spend time with drop-dead gorgeous "10"

She leaves after spending time with you.

She is a pro and knows how to please.
What is the Job of an Escort?
The job of an escort is to provide her client with her time in exchange for money. Whatever happens in that time is between two (or three) consenting adults. 
What is the Job of Two Sex Workers?
Nothing changes when dealing with two escorts. You go through the same process explained in How to Hire an Escort 
Regardless of whether you're partying in a hotel suite, her incall, or your house or apartment, you'll want to make sure that you have everything in order to have the best possible time.
If you're a little stuck when it comes to knowing what to do, don't worry! Here are some tips and tricks that you can use to make your time even more epic.
Incall or Outcall  – Which is Best for Your Night of Pleasure?
If you're looking for the perfect experience, you might want to consider an outcall service. This way, you'll get more personal attention, and the girls will show up to your room.
There's no problem with going to her incall, but you might feel uncomfortable when dealing with two girls.
Having them come to your place is better – a hotel room is the best.
On the other, if you're on a tight budget, outcall is usually more expensive so keep that in mind too.
The safest way to hire two escorts is on theeroticreview.com
Rules for Booking Two Sex Workers
The rule with two girls will be the same as with one. Or more generally, the girls usually have their rules on their websites or in their ads.
Do You Pay Before or After?
Generally speaking, you are always going to pay before when hiring one or two escorts. They might ask you to pay by credit card or something online.
Or, if they just deal with cash, you usually leave it on the nightstand or in the bathroom.
Note: Look for their instructions on their website. 
Note: Recently, some escorts require a deposit when you book. So that's obviously by credit card, PayPal, or some other payment method.
Tip: You will not have to pay double the average hourly rate for two girls. Most duos charge a bit more than they do individually but not double. By the way, you can't negotiate with escorts you meet online, so just find alternative girls if your first choice is too expensive.
Sex Worker Etiquette 
Remember, sex workers have rules, and you'll need to make sure that you play by them. Whether you're at their incall or at your hotel room, you'll want to avoid getting kicked out or having any problems. Here are a few definite no-nos:
Do not take videos or photos without permission – This is their job and they take it seriously, so be respectful.

Do not be inappropriate – make sure to be respectful at all times and don't do anything that hasn't been discussed beforehand.

To not take drugs or be shit-faced drunk – It's okay to have a good time, but don't get too wild and forget about common decency.
Remember, once you hire an escort the first time and see how easy it is, you'll want to do it again. To do it again, you'll need references. Make sure your references say good things about you. Screening was talked about here: How to Hire an Escort – Screening.
Always Plan Ahead
Planning ahead is key to having a great time during your first threesome. 
Make sure you read the girls' reviews on theeroticreview.com – here.  Better if you can find reviews with both of the girls because it's possible each individual escort is different when she is solo or one-on-one.
Make sure that you plan your budget, spending, and location, and try to book two or three days in advance. This way, you'll be able to avoid any last-minute surprises and ensure that your night is unforgettable.
Summary
So, there you have it! With these tips in mind, you'll be able to plan the perfect threesome and ensure that you have the time of your life. And remember, the same rules apply to two escorts that do with one.