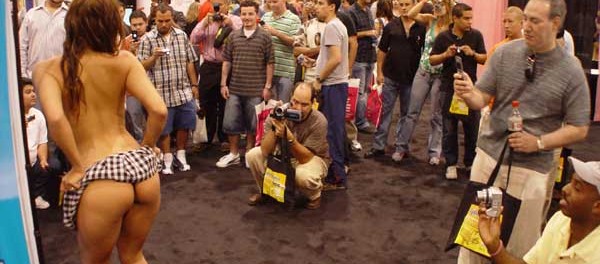 Part of being happy while single is not doing stupid boring things.  So let me warn you of one of those things – this will probably shock you.
Stay as far away as possible from the annual AVN Adult Expo in Las Vegas!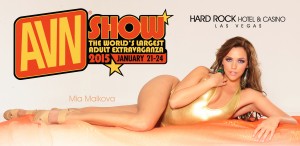 I share this experience, so you won't have to.  A few years ago I was at the Hard Rock Hotel during the 4 or 5 days of the annual porn convention.  I thought this would be fun. I was wrong.  Ironically, if you have any interest in hooking up with girls in Vegas like any other weekend, the HRH isn't the place to be during the porn convention.
WHY?  BECAUSE THERE ARE LITERALLY NO GIRLS!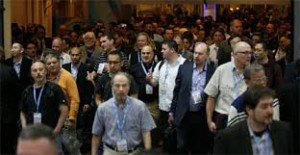 There's only thousands of guys there to meet, get autographs, and pictures with their favorite pornstars.  I remember playing Blackjack with a guy who knew everything in the world about pornstar Audrey Bitioni – yes, she's pretty hot, but his obsession was a little disturbing.

One of the best things about being single in Vegas, is you can hook up with girls whenever you want.  Well that's just not possible at the porn convention.  Ironically, none of my married friends would ever be allowed to go to Vegas during the porn convention. 
But, this is the safest place in the world for married men.
With a handful of Pornstars hanging around the casino when there's no events going on, and thousands of guys walking around the casino, the chances are very low that you're gonna meet some random non-porn industry girl, buy her a drink, and take her up to your room. 
And, as for the pornstars themselves, it is very hard to pick up a pornstar when every guy in the casino is trying to do the same thing.  I'm not saying it's impossible, just there's much better uses of your time if you're a bachelor.

Don't get me wrong, I love the Hard Rock Hotel, and it's hard to find a better hotel in the summer.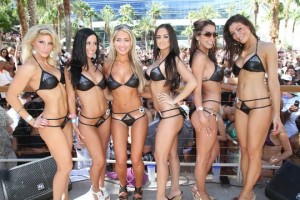 Just don't go the week of the porn convention if you want to meet hot girls. 
I get that you don't always have to go to Vegas to pick up girls.  Sometime you go just to hang out with your friends – as if you were married.  As I've been doing for over 20 years, I'll be in Las Vegas for the first weekend of March Madness (NCAA College Basketball Tournament) – March 19th thru March 22.   If you don't know, the first weekend of March Madness is one of, if not the busiest weekends in Las Vegas.  And no, there are not many hot girls sitting in the sportsbooks betting on the games, or wandering around the casinos during the first weekend of March Madness.*   This will be my time to hang out with my married friends, and bet on sports for 4 days straight.
*I'm not talking about the hundreds of escorts that are always there.
So if you're recently divorced, and you've always wanted to go to AVN Adult Expo in Vegas… DON'T!