Solo Trip To Las Vegas (Nightclub Update)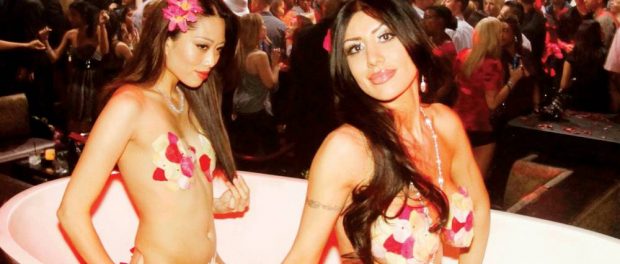 If you're an adult single male there is no reason for you not to go to Las Vegas alone. I first wrote about this almost 3 years ago in A Solo Trip To Las Vegas – Traveling Alone
The information in that post is still very useful.
This is an update to that post, whether you're in Vegas alone for a conference or you just wanted to get away, this post will tell you where you can meet hot girls in 2017.
By the way, if you have not been to Vegas in a while, March, and March Madness is one of the most popular times to go.
The best places to meet girls in Vegas is still the nightclubs.
I explained how this is done in The Key To A One Night Stand (the only update to that post would be to possibly start one hour earlier)
Depending on the day of the week you're in Vegas, here are the best nightclubs.
Friday and Saturday
Any club is going to be busy on these nights, but Marquee in the Cosmopolitan, Omnia in Caesars, and XS in Encore still get the most and hottest girls. Omnia seems to be the most popular club right now. Hakkassan in the MGM is not bad either.
Sunday
Hakkassan is the best club on Sunday night. It's affectionately called "Hak a stairs" because, well, there's a lot of walking up and down stairs in this club.
Monday
The absolute best place to go on a Monday night is Marquee in the Cosmopolitan. For years, Marquee shared Monday nights as the best club with XS, but now it is clear that Marquee is the best. The only downside is that parts of the club are closed off, sometimes the outside, and mostly the hip hop room on the second level.
Tuesday
Currently, the best place in Vegas on Tuesday night is Hyde in the Bellagio. It is not that big, and parts of it are closed off on Tuesday, but 50% of the bar is hot girls. Omnia may also have a Tuesday night industry night but I can't be certain. 
Wednesday
For a while, and still, the best club on Wednesday night is Surrender in the Encore Hotel.
Thursday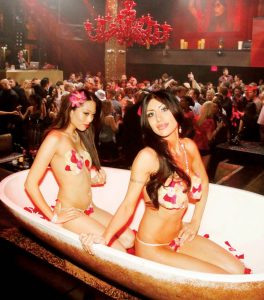 Again, and for a long time now, the best club on Thursday night is Tao in the Venetian.
There is one problem with Tao on Thursday nights – as it gets later, there are a lot more guys than girls in the bar. However, the place is packed the whole night. 
So with a small amount of social skills, you have a 50% chance of hooking up with a hot girl in Tao on a Thursday night.
Light in Mandalay Bay is ok on Thursdays, but it's not packed.
Tip: Thursdays are the best nights to go out whether you're in Vegas alone, or even in your hometown bored. I've easily had more one night stands on Thursday nights than any other night.
I'm not sure why Thursdays are so good, maybe it's because there are more girls with only one or two other friends with them on Thursday night. This is different than the bachelorette parties and big groups of girls on Friday and Saturday nights.
It could also be that Thursday in Vegas is a day that a lot of people arrive in town. Because these girls have just arrived, they are in a good/horny mood. 
One other thing to know about Vegas clubs on Sunday to Thursdays – "Working Girls"
Sundays through Thursdays are traditionally nights clubs cater to the waitresses and bartenders. See my post on industry nights (Thursday and Sunday Fun). 
However, on these nights in Vegas there are tons of "working girls" (prostitutes) in the clubs. Don't be surprised if you stop a chick, start talking to her, and 5 minutes later she asks if you want to go back to your room for some fun. The shocking thing is that, there is no way to tell that these girls are working (unless of course, they are wondering around the club alone all night). I really just starting noticing this in the last couple years but maybe you were already aware of this.
Casinos after 2:00 am
In previous posts, I told you that you can meet girls while gambling in any Vegas casino. I mentioned you can meet girls while playing roulette, craps, or even blackjack.
However, over the years it seems that most of the girls walking around any casino after 2:00 am. (and maybe even after midnight) are "working girls." If you like to hire girls in Vegas, check out usasexguide.info for the latest intel on "casino girls."
But if you're looking for a random regular chick, it seems that between 9:00 pm and midnight is probably better. After midnight, most of the regular girls are in the clubs. 
So if you're heading to Vegas anytime soon, hope this helps.