How To Get Girls With Seeking Arrangements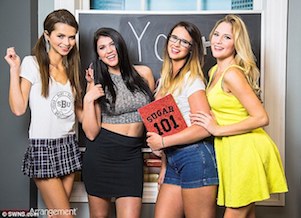 It is surprising that after 4 years of bachelorlifeinc.com, there are no articles about the dating website Seeking Arrangements.
What is Seeking Arrangements:
Seeking Arrangements is a dating website but it's not like match.com or Tinder because it's more explicitly transactional.
On this site, guys with money, and who are willing to spend money on girls, sign up to match with girls looking "to be taken care of."
The site is refreshing because it makes explicit exactly what is implicit in everyday dating. Guys pay girls to spend time with them.
The details about Seeking Arrangements can be found here: (link)
Briefly, you will sign up like any other dating website.
The main difference here is that you will input your education, annual income, net worth, and how much you want to spend on girls – "lifestyle budget."
7 Benefits of Seeking Arrangements.
First: You are Too Old for Clubs
There is no problem going out to bars and clubs when you are in your 40s or older, however, most guys don't go out after 30.
The irony is that when you are in your 30s or 40s you probably make good money and are most appealing to girls.
(The fact that 30, 40, and 50-year-old guys, have money is why bachelorlifeinc.com has always promoted hiring escorts if you're not getting consistent time with hot girls.)
Seeking Arrangements is not an escort site, and the girls are not advertising prostitution.
The girls are, however, looking for "allowances" from guys. Seeking Arrangements brings the two together – men with money and girls who need money.
Second: The Girls are Hot
Unlike Tinder or many other dating websites, Seeking Arrangements is great because most of the girls are very good looking.
Third: The Profiles are Real
Also, unlike many dating websites, the girls have real profiles. In fact, there are verification badges for girls verifying their backgrounds and information.
Fourth: Different Girls are Looking for Different Things
When you sign up for Seeking Arrangements you can choose what type of girl you want to meet.
College Girls: There are stereotypical broke college students looking for help with their expenses.
Single Moms: There are single moms who need help supporting themselves and their kids.
Internet Famous Girls: There are girls who are very experienced with having guys take care of them. These are the girls you see on Instagram traveling the world with luxury brands and no job.  
You have all types to choose from. 
Tip: If you focus on college girls 18 to 23, you will not have to deal with too much scrutiny of your financial situation. 
Fifth: Great Ratios
If you do any online dating, you know that even average looking girls are bombarded with messages every day.
On Seeking Arrangements, there is only 1 guy for every 4 girls. 
This 4 to 1 ratio is good for you because that means the girls will be much more receptive to you. They will reply to your messages, and meet you out a lot more than traditional dating websites.
Sixth: "Allowances" are negotiable
On Seeking Arrangements girls will tell you how much of an "allowance" they are looking for. For example, some girls want $200 per month, and some could want $5,000 or more. 
Note: Bachelorlifeinc.com personally knows a girl who gets $10,000.00 per month from a handicapped guy. 
On the other end of the spectrum, if you are a 22-year-old good looking guy with a great new job, you could probably get a girl to meet you for a lot less.  
You are in control. If they don't agree, just find another girl. There are plenty to choose from.
Seventh: You could get a girlfriend
Granted you probably don't want a girlfriend you found on dating site where she is saying she wants money.
However, if you are young, good-looking, socially cool, etc, girls are always just girls. You never know what might happen, she might like you and forget about the explicit money "allowances."
So How Much Does Seeking Arrangements Cost?
Current 2018 Membership prices:
In the end, there is nothing wrong with taking Phenibut and approaching girls during your daily life as written in How to Approach Girls During the Day
Also, there's nothing wrong with hiring an escort for her time if you can find a girl who has been sufficiently reviewed as written in How to Hire an Escort.
But Seeking Arrangements is one more perfect option for getting girls. 
Finally, yes, there are other "sugar daddy" dating sites out there, but Seeking Arrangements is by far the largest. To try a free trial, click here.